As an older adult living in a senior community, you may sometimes struggle to find enjoyable and safe activities. But there are plenty of fun indoor activities to keep you active and engaged. From getting crafty to trying out new recipes, there are endless ways to have a good time.
Hobbies like arts and crafts, writing, cooking, yoga, dancing, and online browsing can all provide both physical and mental stimulation. These activities not only keep the body moving but also stimulate the mind, helping to improve cognitive function and memory. They are also great opportunities for social interaction, which is crucial for maintaining mental well-being.
Exploring Creative Hobbies
Here are a few hobbies that can engage and stimulate the mind:
Painting and drawing: Creating art is good for the brain, no matter your skill level. It improves mental well-being, fosters imagination, and reduces stress, all very important to living well.
Knitting and crocheting: These crafty activities can not only create beautiful handmade items but also provide a sense of accomplishment and relaxation.
Writing and journaling: From short stories to memoirs and journaling, writing can help you express yourself and reflect on your memories and experiences.
Photography: With the advancements in smartphone cameras, photography has become more accessible than ever. Capture the beauty of your surroundings and experiment with different techniques.
Cooking and baking: Trying out new recipes and cooking/baking for loved ones can be a fulfilling hobby. It can help you explore your culinary skills while also providing nourishment.
Board games and puzzles: These classic activities can improve cognitive function, memory, and problem-solving skills for seniors. They also provide a fun and social way to spend time with friends and family.
Indoor Exercise Routines
Exercising indoors can be a great way to stay active and healthy. It's important to keep moving, even when the weather outside isn't ideal:
Yoga: Yoga is a great low-impact activity that can help improve flexibility, balance and strength. Many yoga studios offer online classes specifically designed for seniors.
Chair exercises: For those with limited mobility, chair exercises are a great way to stay active. Seniors can do simple activities such as arm circles, leg lifts and seated marches while sitting in a chair.
Dancing: Dancing is a fun activity and a great form of exercise. Seniors can put on their favorite music and dance around their living room or try out online dance classes.
Household chores: Doing household chores may not seem like a traditional exercise, but it can be just as effective in keeping you active and moving. Vacuuming, sweeping, and gardening all count as physical activity.
Virtual exercise classes: With the rise of technology, you can now access various virtual exercise classes from the comfort of your home. Classes range from low-impact to more intense workouts, allowing you to find an option that fits your fitness level and abilities.
Stay Connected with Technology
Technology has made it easy to stay connected, explore new hobbies, and enjoy virtual activities:
Video calls: Video calling platforms such as Zoom, Skype, and Facetime help you stay connected with loved ones. This is a great way to see and talk to family and friends who can't visit in person.
Online games: There are many online games you can play with friends and family, such as virtual card games, trivia games, and even virtual escape rooms. These games not only provide entertainment but also improve your working memory and concentration.
Hobbies: You can use technology to explore new hobbies or advance your existing ones. There are many online tutorials and courses available for activities like painting, cooking, and crafting.
Virtual tours: Many museums, galleries, and other tourist attractions offer virtual tours you can enjoy from the comfort of your own homes. This is a great way to experience new places and cultures without leaving the house.
Social media: Stay connected with friends and family, and keep up with current events and trends using social media platforms like Facebook, Instagram, and X (formerly Twitter).
Fitness: Stay fit with the help of technology through health apps, online workouts, and virtual personal training. You can exercise at your own pace in the comfort of your home.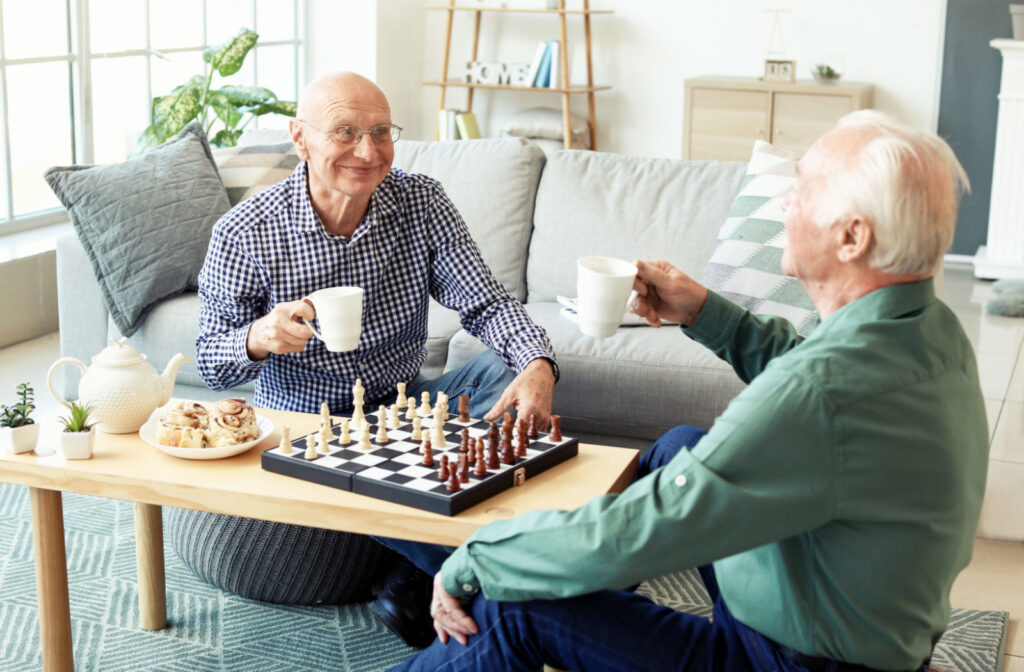 Enjoying Indoor Activities with Meadow View Senior Living Community
Have fun and stay active indoors by exploring new hobbies, and environments, and socializing with games or physical activities. Meadow View Senior Living Community provides a safe and supportive environment where you can enjoy these activities and more.
Schedule a tour with us today to see all that we have to offer!